1/8/2014 - THE OFFICIAL 2014 POST HUNT DATE!

Good evening, everyone!

Following up on New Year Day's announcement, I wanted to let everyone know, without having to look, that the 2014 Post Hunt will be held June 1, 2014. The location is still to be determined.

For those wondering on how to solve the little puzzle I put forth last week, you had to look for "something out of place" here at the Archives. If you looked at each Hunt's pages carefully, you'd eventually stumble into it on the 2013 Post Hunt page. For the Hard Candy puzzle, there was a new photo with the description: "Meanwhile, back in Miami..." What does Miami have to do with the Post Hunt? Clicking on it presented you with the following: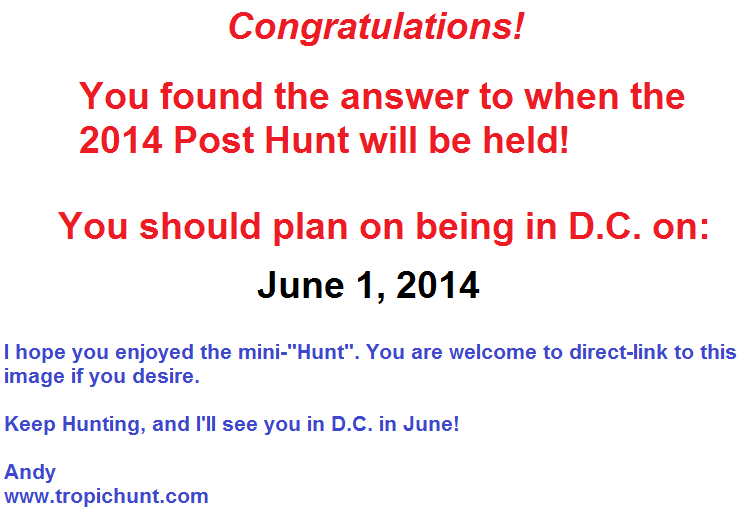 Alert Hunters also noticed one extra tidbit: The filename for the image was "SomethingOutOfPlace.png".

Congratulations to Dick Larson for solving this by 1:52am Eastern time on January 1st. Staying up for an extra two hours on New Year's Eve after the ball drop to find out when the Hunt is...? Priceless. Great job, Dick! Keep checking back for more Hunt news!
---
1/1/2014 - THE 2014 POST HUNT DATE! KIND OF!

Happy New Year, everyone!

It's now 2014 here in the US Eastern time zone, and you know what is in the same time zone...? Washington D.C.! The capital of our fine country, which will also be where the next Hunt is held.

Yes, the 2014 Post Hunt will be the next Hunt, and it's time to let you know when it will be.

So, to get on with it, the 2014 Post Hunt will be held on...
No, wait, that would be too easy. Let's make a simple game out of this.

Somewhere on this site you will find the date of the 2014 Post Hunt. The trick is...you have to find it! The only clue that I will give you is that you will want to look for something out of place.

It's not too hard, and if no one finds it in a week I'll do a regular announcement. But if someone finds it sooner, then that first person who either links to the solution in our Facebook group or tweets it to me will get a shout-out when the regular announcement is posted.

(P.S. Blame Jeff Sandler for this. While it's not a pun, he did want it to be a puzzle...so go ahead and 'boo' him.)

Again...HAPPY NEW YEAR! :)
---
6/5/2013 - THE 2013 POST HUNT REVIEW!

Good evening, everyone!




Six years and six Post Hunts are now over. The crowd has continued to grow and fill Freedom Plaza, and despite the collective brainpower between the eager masses, one person...one solitary person...beat everyone. This wasn't a wait of six years...this was a wait of 29 years. Never has one person won a Hunt.

Sean Memon is the man.




Everyone...we need to elect this man as our next President. Forget the fact that he's too young...if he can solve the Post Hunt by himself, he can easily cut through the political red tape and solve the problems that face this great country. He could get Congress to pass a law recognizing June 2nd as National Post Hunt Day in honor of his accoplishment.

Congrats, Sean. Fantastic job!

The 2013 Post Hunt continued to demonstrate just how popular this event is. Despite a rather warm sunny day where the temperature was warmer in D.C. than South Florida, the crowds came out to see how poorly good they could do. Or they came just to boo Dave, Tom and Gene. The main puzzles were generally challenging but not insurmountable. And the endgame clearly separated the serious Hunters from the casual ones.




LET'S THANK THOSE RESPONSIBLE FOR THE HUNT!
It takes months of preparation in order to prepare a Hunt. From the original ideas for the puzzles and development of the endgame to the gathering of sponsors and volunteers, many, many hours are poured in each one. So let's give thanks to everyone at the Washington Post who put their time and hard work into this fun day, as well as all of the EXCELLENT Hunt volunteers (YOU try hula hooping/coming up with questions to ask Pirates who only answer 'Arrrr' for three hours!). Special thanks to...(in no particular order)
JILL
DAVE
KATHRYN
GENE
TOM
JULIE
ALL THE HUNT VOLUNTEERS (they know who they are...YOU are what keeps the Hunt moving along each hectic Hunt day!)
AS WELL AS THE HUNT SPONSORS THANK YOU, THANK YOU, THANK YOU!

CONGRATULATIONS TO THE WINNERS
Hey, second and third place teams...ONE GUY BEAT YOU. You better step up your game! (Like I should talk, being 0-26...)

Now the, ON WITH THE REVIEW!

THE REVIEW
In my continuing tradition, I offer the following review/thoughts on this year's Hunt:

The Location:
I like Freedom Plaza, but I'm not a D.C. native. I like looking down the street and seeing the Capitol behind all the Hunters. There's just something special about the area...and it serves the Hunt well.




Overall Hunt difficulty:
On a scale of 1 to 10, with 10 being hardest (2011's Herald Hunt), and 1 being easiest (2004's Herald Hunt), this Hunt seemed to present a stiff challenge and ranks an 7 out of 10. The main puzzles were challenging, but not too bad. I think most people were able to solve them. The end game was tough, requiring extra clues, but that's not uncommon. I was already in the field and solving it, just not fast enough...

NOTE: In order to allow people to "play at home", I have renamed some of the puzzle titles to better conceal the nature of the puzzle. Some of the titles from the Post's article would give hints on how to solve the puzzle...hints that were not available at the Hunt itself.

The puzzle-by-puzzle analysis:
The Pirate Dating Game:Tricky one, took us the longest to solve (and was the last one we solved). We initially got the wrong answer because we didn't use what we were supposed to the way it should have been used and got the wrong answer. Probably the hardest of the main puzzles.

The Hard Candy: We missed this puzzle initially because we couldn't find the volunteers. So many people were crowded around them that we didn't see them. When we came back later, we found them easily. It took the two of us to solve the puzzle because my taste buds were off, but we understood what you needed to do with the candy after a few minutes. This was the third easiest of the Hunt.

The Performance: This was the easiest of them all, but logistically led to unfortunate long lines to see it. Puzzles should always be visible to a wide audience, but the pacing of this puzzle made that a bit trickier since the program had to be given at the end. Despite the wait, we got the answer within a couple minutes of reviewing everything.

The Gantry: This was the second easiest puzzle, but I had a problem with it, in that there should have been some reference to what the dummy represented in the magazine. Otherwise you needed Internet access if you didn't recall the details of the answer exactly.

The Weird Walkers: This one was a neat offset puzzle (and the only one of the Hunt) that once you understood what you were watching, you just understood what you needed to do next. It was just weird (and fun) to watch a (very) brave Hunt volunteer walking with a giant naked butt attached to their back.

Endgame: Holy wow! We were in on the end game and were on a path, but we didn't start where we should. Some of the references in the end game also were not entirely common knowledge (Obscure state mottos, for example.). This end game was tough, taking about 45 minutes to get winners and two additional clues. But people did solve it. And we had a volunteer still at their post at a Hunt puzzle location well after 3pm, so we thought we were on the right path. Also, SWAG was an answer in the crossword puzzle, too. That probably couldn't have been foreseen, however.




HUNT RECOMMENDATIONS
Last year I recommended the following:

1) SHRINK THE OVERALL HUNT AREA DOWN.
Result: DONE! The Hunt was contained to a smaller area.
2) CLARIFY THE CAMERA REQUIREMENT.
Result: N/A. No camera was required this year.
3) LIMIT THE AMOUNT OF 'OFFSET' PUZZLES.
Result: SUCCESS! Just one this year!
4) HAVE AN OFFICIAL WACKY TEAM NAME CONTEST.
Result: None. Owel.

My recommendations for this year are:
1) SELL HUNT T-SHIRTS: Free Hunt t-shirts were nice for those completing the survey, but they went too quickly. I literally got one of the last few they had available. Hunt t-shirts have been a staple of the Hunts for years, so limiting their distribution was a risk, and I don't think it worked well, and I believe the Washington Post should have sold them. Maybe a happy medium would be to sell them on CafePress, the way they did the first year. Anyone who didn't get one can always order one before and/or after the Hunt.
2) GET MORE COPIES OF THE HUNT MAGAZINE: There weren't enough copies of the Hunt magazine at the Hunt. I tried Saturday to find a bulldog edition of the Sunday paper and struck out everywhere I tried. Everywhere. I never had that problem before. On Sunday, we picked up two copies of the Sunday paper and got our magazines, but we wanted to grab a couple more at the Hunt. Sadly, there weren't many copies to go around, and I only got one extra copy.
3) GET MORE FOOD TRUCKS! There were good ones this year...but get a few more for some extra variety and Hunters will be all set!

WRAPPING THE REVIEW UP
The 2013 Post Hunt I think was a more successful Hunt than most others, as the main puzzles had the right mixture of challenge to solvability ratio. Given time, people solved them. For the casual Hunter, this is good, as many folks get frustrated when they only solve one or two main puzzles. Solving them all makes people feel like they're "in the game" for the main prize. The end game puzzle managed to keep the serious Hunters going, if tripping them up a bit at the beginning, but once they were on the path, the solution came fairly quickly. And ONE GUY GOT IT ALL ALONE!

Enjoy the 2013 Post Hunt wrapup, and let me know what you thought of this year's Hunt.

And thanks again for your patience and waiting for me to get the review and the Hunt information up. Y'all are the best, you know that?

Keep Hunting!


---
6/1/2013 - TOMORROW IS THE 2013 POST HUNT! MEGA UPDATE TIME!

Good morning, everyone!

I'm in D.C. The Hunt section is out now (see below). It's time to get your game face on, time for the super-spectacular mega-update of them all. Get ready to stuff your brain full of...stuff? I've helped by breaking it down into sections...

1. GET PREPARED!

GETTING THE HUNT EDITION OF THE SUNDAY MAGAZINE EARLY
The magazine is available online here .

BUY YOUR "BULLDOG" EDITION TODAY!
Yes, you can get the Hunt magazine online, but don't forget to purchase your "Bulldog" edition (first edition) of Sunday's paper today! Your financial support of the Post helps keep the Hunt alive!

YOUR POST HUNT WEATHER UPDATE!
Hot and partly cloudy! BRING YOUR SUNBLOCK!
Your updated (un)Official Post Hunt Weather Hour-by-Hour Forecast for Sunday, June 2nd, 2013 is:
12:00pm - 83 degrees - 10% chance of rain
1:00pm - 84 degrees - 20% chance of rain
2:00pm - 85 degrees - 20% chance of rain
3:00pm - 86 degrees - 20% chance of rain
4:00pm - 86 degrees - 30% chance of rain

READ UP ON PRIOR HUNTS HERE AT THE ARCHIVES AND AT THE WAPO SITE, TOO!
There's LOTS of good information here at the Tropic/Herald/Post Hunt Archives, covering each and every Hunt that has ever been held. Click through the year links on the left and see more details on what Dave, Tom and Gene have come up with through the years.

You can also click through 'Exploring Previous Hunts' links on the Washington Post's Post Hunt page to get their reviews of how their Hunts worked in the past, too.

DID YOU MISS THE HUNT VIDEO CHAT YESTERDAY?
They posted it on Youtube, so go watch it, learn some stuff and laugh along the way.

MAKE SURE YOU HAVE AT LEAST ONE MODERN CELL PHONE
You WILL need a cell phone that can text and likely take photos too. Bring one. Or lose. (You'll likely lose anyway, but at least you're not writing youself off if you don't have at least one available among your team members.)

WHAT TO BRING
Here's our recommendations on what you should bring:
- You and your Hunt team
- Cell phone (WITH TEXTING and PHOTO CAPABILTIES)!
- Notepad
- A vague sense of reality (to determine which clues are real and which are out to get you)
- A clear voice to boo Dave, Tom and Gene with (bring cough drops or drink some tea with honey beforehand if needed). - Pen and pencils and erasers
- A backpack or some type of bag to carry your stuff around in.
- A hat (sun, folks, sun!)
- SUNSCREEN!
- Money (for getting to/parking/eating/whatever you need to buy during the Hunt...especially Post Hunt t-shirts!)

2. GETTING TO THE HUNT

The Hunt begins at noon at Freedom Plaza, on Pennsylvania Avenue NW near 14th Street NW in downtown Washington. While there IS parking available in the area, your best bet is likely taking the Metro. The Federal Triangle station is less than two blocks from Freedom Plaza and the Metro Center and McPherson Square stations are each nearby as well.

TRACK MAINTENANCE TOMORROW!!
There is track work this weekend on the Shady Grove leg of the Red Line! Plan accordingly!

3. DURING THE HUNT

Try to solve all the main puzzles and win the Hunt! And don't forget to boo Dave, Tom and Gene afterward as they explain how things worked. Also...

TWEET, TWEET, TWEET!
The Post Hunt folks should be tweeting from @posthunt, so make sure you follow them! Also follow me, too, to get other announcements and see how I'm doing. (I will not be giving answers or hints out as I solve puzzles, sorry!) Don't forget to use the #posthunt hashtag for your own tweets! And please be careful with what you tweet, especially photos. Remember, your pic of a puzzle could save a team the trouble of having to go to a puzzle site...so consider your photos carefully!

BUY YOUR HUNT T-SHIRT!
C'mon, folks. Get a piece of Hunt history, and keep the Hunt alive at the same time. Wear your shirt proudly afterwards and explain to your confused friends what the Hunt is about. And get them to come to the next one!

THE ANNUAL HUNT MEET'N'GREET!
Want to find me at the Hunt? Please do! I will be wearing a 2008 Post Hunt t-shirt. My red hair also helps me stand out...so feel free and say 'hi' if you see me!

4. CHECK BACK HERE DURING THE WEEK NEXT WEEK

I'm flying home a few hours after the Hunt ends, and updates will be posted early next week, so keep checking back for photos, explanations and more! Including my annual review!

I WANT YOUR PHOTOS! I WANT YOUR VIDEOS! I WANT YOUR HUNT STORIES!
Got pictures? Got video? Got stories about your Hunt experience? PLEASE email me if you'd like to contribute them to the Archives! I'd be eternally grateful, as well as the other visitors to the site! Because of your help, the archives now has over 1500 items, including pictures, stories, audio AND video! Let's keep it growing!

On a related now, how else can you help the Archives? IF you are inclined, you can click the donation button on this page. Choose your own amount...it would be much appreciated!
(Doing so will not increase your chances of winning the Hunt, but may make you feel are warm and fuzzy inside like it does me!)

5. MISC. TIPS

ANNUAL FROM-TOWNER TIPS
- As someone from Miami, you can never be too prepared for the weather. Wear a rain poncho throughout the Hunt. You'll be ready at a moment's notice in case it does rain. And you DO want to be ready at a moment's notice, right?
- Need another good Hunt overview? Go here!
- Beer and wine will help your thought processes. Lots and lots of alcohol before the Hunt and during the Hunt will keep you on your toes... (Please drink responsibly!)
- The Post Hunt is actually being held at the Mall outside the Air and Space museum. Really. No, really, you know the place. Go there and wait. The silly out-of-towners won't even show up!
- The winners have already been determined for the Hunt two days ago. Weren't told you won? Sorry. You don't need to show up. Everyone will just look at you like the loser you are. (There's a grain of truth in there somewhere...)
(As usual, my teammates are forbidden from following these tips.)

That's all for now...keep checking back for more updates. And I'll see you tomorrow at the Hunt!
---
5/30/2013 - POST HUNT SITE UPDATES! UPDATED TIME AND LINK TO CHAT!

Good evening, everyone!

THE POST HUNT SITE HAS BEEN UPDATED!
Go take a look. There's even a quiz!

UPDATED LINK AND TIME FOR THE POST HUNT VIDEO CHAT TOMORROW!
In what is being dubbed the "Post Hunt Google Hangout Extravaganza", you can have YOUR questions answered via video by Dave, Gene and Tom! You can find the chat here.

They also say it's going to be at 11am, not 1pm!

Post your questions in advance on The Style Blog and the three of them will take their crack at them Friday morning.

YOUR 2013 POST HUNT WEATHER UPDATE
D.C., we need to talk. What's the deal with trying to copy South Florida weather? Now there's an increased chance of rain as well as the heat. What the heck, D.C.?!
Your current (un)Official Post Hunt Weather Forecast for Sunday, June 2nd, 2013 is:
High of 90, with a 30% chance of scattered thunderstorms!

TWITTER! FACEBOOK! KEEP UP WITH THE LATEST HUNT UPDATES!
Want to stay on top of your Hunt updates? I always post notifications of updates to Twitter and Facebook. Don't forget to also follow the Post Hunt's Twitter feed as well! Use the #posthunt hashtag on Twitter whenever you mention the #posthunt.

More updates tomorrow, including how you can find me at the Hunt!
---
5/28/2013 - JUST V DAYS! CELL PHONE! VIDEO CHAT! WEATHER!

Happy Day After Memorial Day, everyone! I'm sure EVERYONE was as excited as I was to get back to work? Amiright or amiright?

We're just cinco días (hey, I'm from Miami, shoot me...NO! WAIT! DON'T SHOOT!) away from the Post Hunt! Here are a couple slices of fried gold for you to chew on...

SURPRISE! YOU WILL NEED A CELL PHONE FOR THE HUNT!
Like this is a shock: you will need to have a modern cell phone with you at the Hunt so that you can text and take pictures, post on Facebook, update Twitter, check in on Foursquare, pin things on Pint Rest...or P Interest or whatever it's called. I may have made some of the previous stuff up. But you will need a cell phone if you want to win. Make sure it's got SOME capabilities to it.

THIS 2013 PRE-POST HUNT CHAT! NOW WITH VIDEO!
On Friday, you can participate in the 2013 pre-Post Hunt chat featuring Dave, Tom and Gene! It's going to he a HangOut (video chat), too! I'll post a link to it as soon as I have one.

YOUR (UN)OFFICIAL POST HUNT WEATHER FORECAST!
Your updated (un)Official Post Hunt Weather Forecast for Sunday, June 2nd, 2013 is:
High of 89 with a 20% chance of rain!

What the heck, D.C.? It'll be hotter there than it will be in Miami? *ducks* I SAID TO STOP SHOOTING! Just because I'm from Miami doesn't mean I'm used to it!
---
5/19/2013 - TWO WEEKS UNTIL MAYHEM! WHO'S RESPONSIBLE?

Good morning, everyone!

We're two weeks away from the 2013 Post Hunt! You've made your plans to get down to Freedom Plaza on June 2nd, right? After all, this is one of the most fun and life-altering events you can ever participate in. If you haven't signed up yet, WHY THE HECK NOT?!?!

What do you need, some type of incentive...a prize, perhaps...to entice you to join the festivities?

Well, SHOULD you come down and join in the foray, you'll have your chance to win one of these...

1st Place: $2000
2nd Place: $500
3rd Place: $500

So you're saying to yourself, "Okay, Andy...Mister 'tropichunt.com guy™'...you've got my interest. they're not just giving away that money easily. Can I do this by myself?"

Sure you can! However, it will be more challenging. And not as fun.

Get some other friends together...and try to get someone who hasn't been to the Hunt before, too...and plan on getting down to Freedom Plaza in two weeks.

"So, who do I have to think for all of this?"

Besides Gene Weingarten, Tom Shroder, Dave Barry and the fine folks at the Washington Post who help craft this spectacular event, you really should thank the following sponsors both before, during and after the Hunt:

Arena Stage



Cars2Go



Cars.com



Mattress Warehouse



National Geographic Museum



You'll notice these sponsors around the Hunt, so definitely give them your thanks at the Hunt, and give them some business afterwards.

More info coming soon! Keep checking back!
---
5/5/2013 - THE SIXTH ANNUAL POST HUNT RETURNS!

Hello, everyone! Happy Cinco de Mayo! Long time no talk! So let's catch up, shall we?

When we last discussed Hunt things, the Herald Hunt had just ended and there were some winners and LOTS of losers. But time has allowed those wounds to heal, and we must refocus our collective efforts on competing in the...
2013 Post Hunt!

In only IV short weeks we'll be innundated with the wackiness that only Tom, Dave and Gene's brains can come up with. For example, they've already teased us with this puzzle:


Try it out and come up with your answer. When you're stumped (or need to verify your answer), go here to see the answer. And read Tom's response to how quickly it was solved.

So let's get some important details out of the way:
What: The 2013 Post Hunt
When: Sunday, June 2, 2013 from 12:00pm-4:00pm (approx. end time)
Where: Freedom Plaza
Is it free?: YES!
Is it fun?: YES!
Do I need to register or have a team?: NO! NO!
Will I lose but have a great time doing it?: Almost certainly!

I'll have more updates as we get closer to the Hunt, so keep checking here, Facebook and Twitter.
---